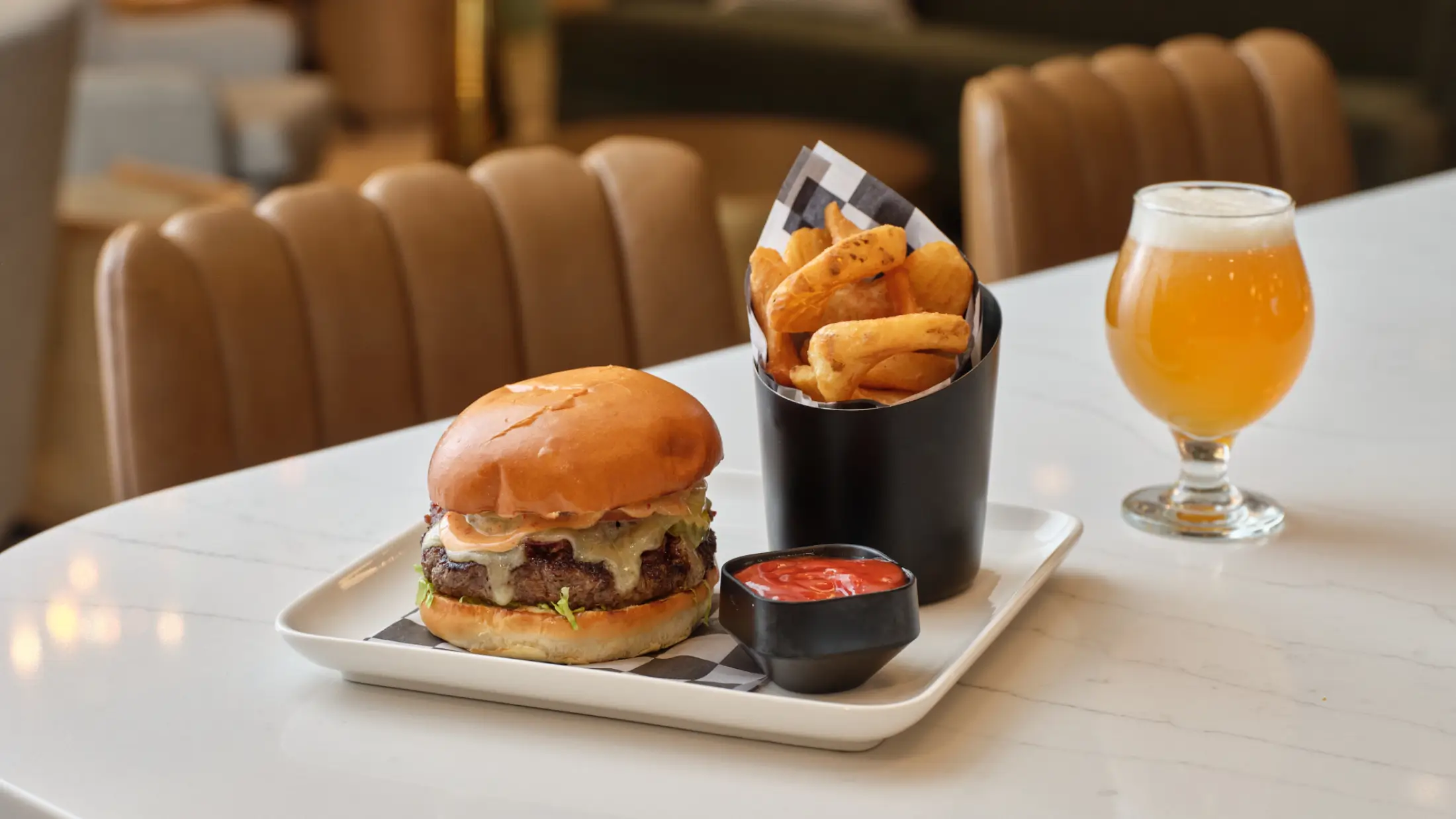 Where to Dine in Hanover, New Hampshire
During your stay at Six South St Hotel, you will discover a variety of restaurants just a short walk away. Our location in the heart of downtown Hanover, NH, near Dartmouth College, provides several cuisine options to choose from. We support all the local restaurants, but here are a few must-visit places during your time here.
Looking for a delicious meal without having to venture too far? Look no further than our hotel restaurants, café@six and bistro@six. We offer breakfast, specialty coffees, dinner, and cocktails all in one convenient location. Our lobby and lounge area have recently been renovated and provides the perfect setting for an intimate meal and conversation. Alternatively, if you're looking for a more social setting, grab a seat at our white granite bar, complete with beautiful, scalloped bar stools. Our menu includes options such as savory breakfast sandwiches and pastries in the morning, followed by appetizers and tasty burgers for dinner from our extensive menu. Come and enjoy a fantastic meal with us!
Head over to Umpleby's, our neighbor, and grab a sandwich from this family-owned café and bakery. The Bertie Wooster sandwich is a great choice, featuring delicious ingredients stacked with Turkey, Bacon, Sliced Apple, Lettuce, Cheddar, and Mayonnaise. You can enjoy your meal for breakfast or lunch inside the café, on their outdoor patio during the al fresco season, or take it back to our indoor or outdoor seating options at Six South St.
Molly's Restaurant and Bar is a popular establishment that attracts students, locals, and visitors alike. This lively tavern is situated on Main Street in Hanover and serves up pizza, drinks, and delicious pub fare.
Lou's Restaurant is a long-standing Hanover restaurant that has been around since 1947. It serves breakfast all day and lunch, and their bakery is filled with irresistible cakes, pies, donuts, and cookies.
Ramunto's Brick and Brew is a fantastic dining option situated just across the street from the hotel. They serve delicious, handcrafted New York Style Pizza, calzones, and strombolis. Their house-made dough is always fresh, and they use their signature sauce and freshly grated cheese to create amazing dishes.
Our convenient location offers easy access to various dining options, including Thai, American, fine dining, Mexican, and more. For additional options in the Upper Valley, visit https://visittheuppervalley.uppervalleybusinessalliance.com/list/category/restaurants-74.